THE
MURDERER
AND THE CLOCK
Post based on a work by Agatha Christie: THE CLOCKS
(1963)
http://www.youtube.com/watch?v=UHITPZ_Zbck
REVISED APRIL 2015
"It's ridiculous that so much evidence can exist and so many clues can exist and yet we still don't know this guy's name"

says Tom Voig

(He runs the popular website ZodiacKiller.com — an online destination for amateur sleuths who are fascinated by the bizarre murders that terrorized the Bay Area in the late 1960s and 1970s.)
Too
bizarre murders
, right?
When I read
the novel by
Agatha Christie
I thought I
had read
this
plot
before
INSPIRATION/IDEA
Like

Agatha

Christie

's Novel "

The

Clocks" the

watch is

an object

to incriminate

a person

with a bad reputation:
"One thing is certain", he (Poirot) pronunced,"It must be a very simple crime".
"Simple?" I demanded in some astonishment.
"Naturally"
"Why must it be simple?"
"Because it appears so complex. If it has necessarily to appear complex, it must be simple. You comprehened that?".
(Chapter 14).
Solution
in Chapter
28:
http://www.magusosauane.yolasite.com/resources/Agatha%20Christie%20-%201963%20The%20Clocks.pdf
++++++++++++++++++++++++++++++++++++++++
THE

ANOMALY

IS:
WHY THE MURDERER WANTS OR WISH TO BE IDENTIFIED WHITH THE NAME AND SYMBOL OF A CLOCK?
More about The Killer Zodiac Watch of the Zodiac Killer :
http://watchismo.blogspot.com.es/2007/08/killer-zodiac-watch-of-zodiac-killer.html
SYMBOL, WATCH, COSTUME & PINS........... WHY?
__
Because as
Mark
Twain
wrote: "If the desire to kill and the opportunity to kill came always together, who would escape hanging?"
http://www.twainquotes.com/Killing.html
__

Thus the

murderer

should

hide

his tracks

and not show

their identification,

except that

he wants to

deceive us

because it is too

obvious

who

has reason to

kill.
+++++++++++++++++++++++++++++++++++++++++
THE
obvious
SUSPECT
THE BEST SUSPECT: THE CLOCK´S OWNER
Robert Graysmith's book Zodiac advanced Arthur Leigh Allen as a suspect based on circumstantial evidence: He owned and wore a Zodiac brand wristwatch.
Did suspect Arthur Leigh Allen really wear a watch with the Zodiac's symbol on it?
__Yes. The movie (ZODIAC) shows Zodiac suspect Arthur Leigh Allen wearing a watch that bares the killer's symbol and the brand name Zodiac. The real Arthur Leigh Allen wore an identical watch, the Zodiac Sea Wolf watch. Robert Graysmith commented on this in an interview,

"To use the symbol ... to wear that watch, and to be at the crime scenes and to know the victims ... he would have to be the Zodiac."
Arthur Leigh Allen was the prime suspect in the Zodiac murders and the only suspect served search warrants by police.

He was never charged with any Zodiac-related crime, and his fingerprints did not match those left by the killer of taxi cab driver Paul Stine.

In 1991, 23 years after the shootings, survivor Michael Mageau identified Allen as the man who shot him, from a photo lineup of 1968 driver's licenses. Allen, who suffered from diabetes, died in 1992 from kidney failure.
While Arthur Leigh Allen was the prime suspect, all of the evidence was against him being the killer:
Allen lived in Vallejo and worked minutes away from where one of the first victims (Darlene Ferrin) lived and where one of the killings took place. A letter sent to the Riverside Police Department from Bates' killer was typed with a Royal typewriter with an elite type, the same brand found during a February 1991 search of Allen's residence...... and MUCH more:

http://www.zodiackiller.com/AllenFile.html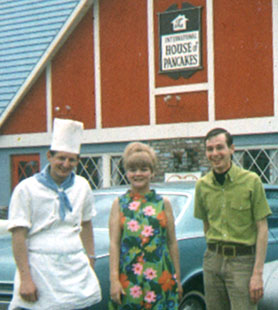 Zodiac victim Darlene Ferrin posing with a coworker and

another friend

at the International House of Pancakes (I-HOP), where she worked as a waitress in 1966-67. The I-HOP is located less than one-tenth of a mile from where Arthur Leigh Allen lived in the 1960s.
More:

http://www.zodiackiller.com/Cheney.html
In 2002, SFPD developed a partial DNA profile from the saliva on stamps and envelopes of Zodiac's letters. SFPD compared this partial DNA to the DNA of Arthur Leigh Allen. A DNA comparison was also made with the DNA of Don Cheney, who was Allen's former close friend and the first person to suggest Allen may be the Zodiac Killer.
More
about

this friendship

and

betrayal

:
http://www.zodiackiller.com/CheneyTranscript.txt
Since neither test result indicated a match, Allen and Cheney were excluded as the contributors of the DNA, though it cannot be stated definitively that it is DNA from the Zodiac on the envelopes.
More:
http://en.wikipedia.org/wiki/Zodiac_Killer#Suspects
Deductions
+ In a rural area
it's
very hard to keep secrets
+ The
murderer
is very familiar
to
Arthur
Leigh
Allen
+ The
murderer
tries to
incriminate

Arthur
Leigh
Allen
+++++++++++++++++++++++++++++++++++++++++++++
EVIDENCES
The Zodiac
murdered seven
people between
December 1968 and
October 1969.

WE HAVE EYEWITNESSES, LETTERS, WINGS WALKER BOOTS PRINTS, BLOODY FINGERPRINTS, DNA ..... AND TWO PORTRAITS

BUT......NOTHING.
+++++++++++++++++++++++++++++++++++++++
THE CLASSIC MOLD OF A SERIAL KILLER ?
In looking at what may have been the motivation behind the Zodiac killer, Voigt suggested that his habit of writing taunting letters to the press may be a critical clue, since the actual murders do not fit the classic mold of a serial killer.



"He only had a handful of victims, but he had 20 letters,"

Voigt said, "it tells me that what was really important to him was what he put in his letters." As such, he observed that these letters served to mock the police, frighten the public, and, ultimately, create

"a whole big mess."

While this motivation may suggest that the Zodiac was merely an egomaniac driven by the desire to gain perverse notoriety for his crimes, Voigt was skeptical of this theory.

Conversely, he surmised that the killer stood, somehow, to gain from both occupying police resources and attention as well as making law enforcement look inept.
More:

http://www.coasttocoastam.com/shows/2012/04/22
& LOCAL SEX
Many of the confirmed victims targeted (6 of 7) were couples in popular make-out spots who were gunned down IN A CAR or stabbed by a man.
And having a spot popular with local teenagers cruising after dark like Lake Herman Road (Benicia),
the parking lot of Blue Rock Springs, a golf course in Vallejo, & Lake Berriessa (Napa).
After brutally stabbing two lovers at a local lake one survivor described him as wearing a black executioner's-type hood with clip-on sunglasses over the eye-holes wearing a bib-like device on his chest that had a white cross-circle symbol on it.
The murderer was also observed by three teenagers across a street of San Francisco, who called the police while the crime of the cab driven was in progress.
+ Like most people who grew up in California, my first make out session was in a car. In a bright orange Ford panel van with big huge tires and obnoxiously loud headers, we parked under the guise of,

"let's just go somewhere and talk."

It didn't seem to matter where we were, as long as it was private. Time flies, windows steam and love blooms. That's the G-rated version anyway. +
http://autos.yahoo.com/news/parking-in-cars-with-boys--a-list-of-lovers-lanes.html
CAR & LOVERS
http://fc02.deviantart.net/fs43/f/2009/132/e/a/lovers_point_by_Demonic_kirby229.jpg
THE VICTIMS
1 Who

wants to kill

two teenagers

?


2 Who wants to

kill an

adulterous

wife

and her lover

?


3 Who

wants to kill

a couple of young lovers

?




4 Who

wants to kill

an unknown taxi driver

?
1 NO ONE because
they are too
young.
The first murders widely attributed to the Zodiac Killer were the shootings of high school students Betty Lou Jensen (16) and David Faraday (17).

The couple were on their first date and planned to attend a Christmas concert at Hogan High about three blocks from Jensen's home. The couple, instead, visited a friend before stopping at a local restaurant, and then driving out on Lake Herman Road. Faraday parked his mother's Rambler in a gravel turnout, which was a well-known lovers' lane.
They are chosen randomly.
2 THE CUCKOLD
Just before midnight on July 4, 1969, Darlene Ferrin and Michael Mageau drove into the Blue Rock Springs Park in Vallejo,
four miles from the Lake Herman Road murder site,
and parked
.
The killer directed the flashlight into Mageau's and Ferrin's eyes before shooting at them. Both victims were hit, several bullets passing through Mageau and into Ferrin.
After firing five shots, the man turned and headed back towards his car. Michael Mageau screamed in pain, and the suspect returned and fired two more shots into each of them. Michael was hit four times, Darlene five.

He wants to

kill

them.

Darlene Ferrin & Mike Mageau,
they
must be killed
and so the

murderer

shoots

them

again.
Obviously

Ferrin's husband, Dean, was initially a suspect in the murder, however was ruled out once it was established he was working as a cook at Caesar's Restaurant at the time of the murder. Ferrin's first husband, James Phillips Crabtree, was also briefly a suspect.
3 WHY?
Conversation between the victims and the man with glasses approaching them wearing an VERY unusual costume and holding a gun occurred

...
He

stabbed the

couple

.... and left them alive : Bryan Hartnell (20) had remained conscious throughout Cec

e

lia's
(22)

attack, The couple began yelling for help. He began to crawl for help. However, he had lost so much blood that he could barely move.
He survived but
Cecelia Shepard passed away three days later as a result of her injuries from the Zodiac's knife

.
Does he
really
want to kill them
?
4 A Thief

because

h

e steals

personal items

.
A
chosen randomly

cab driver is sent to an address and is tricked.
One shot & one
died instantly

.
Soon

Zodiac
will send
pieces of
the
bloody shirt
of the
driver
in
the letters
.
Deduction:
+ So
there is ONLY PERSON one
good reason
for
killing
Darlene
Ferrin
and
her lover: THE HUSBAND
but he
has an alibi.
So he needs
an assistant,
someone who wants to
do the same....but WHO?
+++++++++++++++++++++++++++++++++++++++++++++
WE KNOW THE FACE
OF

A
MURDERER
The murderer was observed by three teenagers across a street of San Francisco, who called the police while the crime of the cab driven was in progress.
The composite sketch of the Zodiac Killer
Detectives Bill Armstrong and Dave Toschi were assigned to the case
FROM
http://en.wikipedia.org/wiki/File:Zodiac_blog_2100x147.jpg
++++++++++++++++++++++++++++++++++++++++++
LAST COMMENT
+

This is the

story of how

two people

(husband & friend)

killed a woman

(

adulterous wife)

, and others to

cover up

his crime.
+
Like

Agatha

Christie

's Novel "clocks" the

watch is

an object

to incriminate

a person

with a bad reputation
:
Arthur Leigh Allen.
+ Arthur Leigh Allen as a suspect based on circumstantial evidence: He owned and wore a Zodiac brand wristwatch.
+
The person responsible for

the first two

murders was

a "friend

"

of the husband,

and

the penultimate & last

murder

were carried out by

the husband

.

He

robbed

& killed

the cab driver

because he

need to

send messages

without murders
because the
goals have been met
.
+ Logically, Arthur Dean Ferrin
is the
murderer
and
then
his helper
is
.... or is his master? ....
is another person who

also

wants to kill

as in the novel

"

Strangers on a Train

".
From Wikipedia(1950)
is a psychological thriller novel by Patricia Highsmith about two men who meet and agree to "trade" murders so that neither will be a suspect in the death of their respective victim.
+++++++++++++++++++++++++++++++++++++++
I REMEMBER
Page from 1917 Mark Twain Calendar published by Sully and Kleinteich of NY
by arrangement with Harper & Brothers
from the Dave Thomson collection
http://www.twainquotes.com/Killing.html
++++++++++++++++++++++++++++++++++++++++++
future ADDENDA ET CORRIGENDA IN
PINK.
++++++++++++++++++++++++++++++++++++++++++
MORE SOURCES
"THE CLOCKS" 1963
http://www.magusosauane.yolasite.com/resources/Agatha%20Christie%20-%201963%20The%20Clocks.pdf
'Agatha Christie's Poirot': 'The Clocks' review
http://www.cultbox.co.uk/reviews/episodes/agatha-christies-poirot-the-clocks-review
+++++++++++++++++++++++++++++++++++++++
TO BE CONTINUED here:
AGATHA CHRISTIE & THE ZODIAC KILLER 02: HOW BRYAN HARTNELL & ARTHUR FERRIN KILLED CECELIA SHEPARD & DARLENE FERRIN WHILE ALSO CREATING A MONSTER CALLED THE "ZODIAC" (whodunit)
http://prophecyexperimentalzone.blogspot.com.es/2015/05/agatha-christie-zodiac-killer-02-how.html
GOODBYE FROM SPAIN
JSP
March 2014
+++++++++++++++++++++++++++++++++++++++
The rabbit has a pleasant face
His private life is a disgrace.
I really could not tell you
The awful things that rabbits do"
"Things that your paper never prints
You only mention them in hints.
They have such lost, degraded souls
No wonder they inhabit holes;
When such depravity is found
It only can live underground."
+ Anonymous piece of Doggerel
http://en.wikipedia.org/wiki/Poirot%27s_Early_Cases
+++++++++++++++++++++++++++++++++++++++
https://www.youtube.com/watch?v=nOE1LlxDdvY
+++++++++++++++++++++++++++++++++++++++